An Edgerton businessman charged with attempted enticement of a minor has pleaded guilty in Platte County Circuit Court.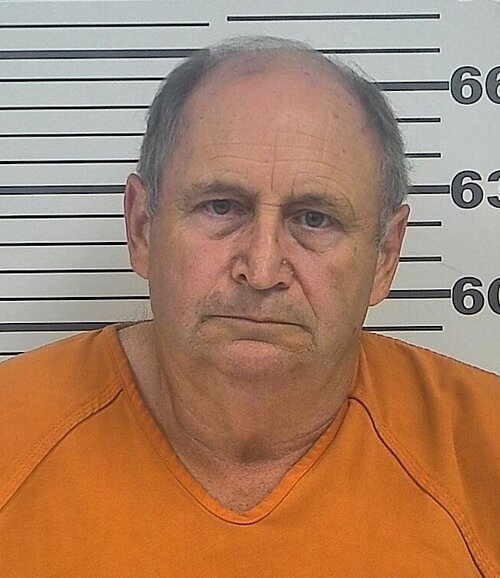 Douglas Auxier, owner of Auxier Auto Sales and Service in Edgerton, was charged in September 2019 with one count of attempted enticement of a child, who police allege Auxier believed to be younger than 15 years old.
Auxier pleaded guilty to that charge on Monday, Jan. 10, and was sentenced to six years in prison by judge Thomas Fincham.
Auxier's case was delayed by the COVID-19 pandemic, with him out on bond for a time. Bond was revoked in early 2021 and the case was set for a July 2021 jury trial for a time.
According to court documents, Auxier was intercepted by Platte County's Cyber Crimes Task Force near the Platte City branch of Mid-Continent Public Library on Thursday, Sept. 19, 2019. Auxier's activities were tracked as part of a covert operation by the task force.
Detectives picked up on an ad looking for "younger guys that like fishing" on Craigslist. When a detective responded to the ad, the conversation quickly strayed from fishing and from the public server to a private email exchange. The detective, playing the part of a 13-year-old boy, asked what Auxier wanted to do and he allegedly responded he "wanted to be used by a young legal guy while crossdressed sometime."
The conversations escalated, with Auxier acknowledging the "boy" was young, allegedly stating, "I wish you were older… just in today's world, something not looked on kindly," in regards to sex with an underaged person. These discussions continued for a few days, with Auxier allegedly telling the "boy" to delete the email conversations.
The two agreed to meet, with Auxier allegedly telling the "boy" to contact him from a separate email account and to pretend as if they were discussing tires because his wife had access to the account. Auxier arrived at the library at the appointed time, emailing that he was "out front," and detectives intercepted him.
According to the statement of probable cause, Auxier told police he knew he had an "inappropriate conversation" with the undercover detective posing as a 13-year-old boy. Auxier said he frequently ran ads on Craigslist for cars and fishing partners and that while he had talked to the boy he had no intention of following through with their discussed plans. He admitted he had used another site, Doublelist.com, to search for sexual partners. Police had also had contact with Auxier on this site, according to the report, where he had said he was "looking for young men."In News Tags edgerton, enticement, platte county sheriff, auxier
link here